Military Balls, Mess Nights and Dining Events – Flame Has You Covered!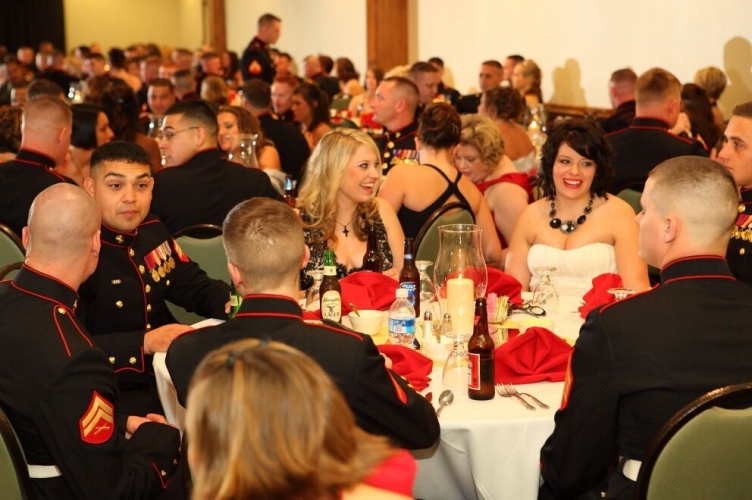 Our team knows that when you plan a Marine Corps Birthday Ball, Mess Night event or Marine Corps Dining event you need everything to run smoothly. With our experience of planning and successfully executing hundreds of military events, Flame Catering and the Flame Banquet Center team has the professional experience and military-friendly network of vendors that you can depend on. Whether you're new to this or not, we promise you – we are not!
For many years Flame Catering has been the premier catering company for military events in eastern North Carolina. We are consistent, easy to work with and we pride ourselves on having an outstanding reputation with our past clients. Over the years we've catered military events of all sizes in local venues such as our own venue, the Flame Catering Banquet Center, as well as the New Bern Convention Center, Havelock Tourist Center and Crystal Coast Civic Center. We are honored to have the opportunity to successfully execute both large and small events working with our country's finest for any unit or career celebration.
With all of our years in the industry we have an extensive network of military-friendly event vendors for just about any service your military event would need. Leading our team, Jennifer Robinson, has planned over sixty Marine Corps Balls. Whether this is your first military event or your twentieth, Jennifer is a great resource for making the process of planning as seamless as possible for you. When you hire Flame Catering we give you all the tools and tips need to make your event a success. We've experienced just about anything and everything in planning over the years. Our goal is to put our expertise to the best use and make YOU look like a superstar to your command as well as to all of your guests attending the event!
Instead of trying to plan a military event on your own, turn to Flame Catering and our team of experienced planners. Don't hestiate a moment longer to start planning your Spring, Summer or Fall military event – connect with us by email and let us get the ball rolling!